It can also be super exciting! It feels like life is building momentum; between graduating, building friendships and relationships, starting your career and paying bills, we know things can feel crazy. We also know that now is the time to rely on God and trust Him every step of the way.

The young adult ministry at Immanuel is made up of real people who are with you on that journey — people who are learning to trust God on a different level and are experiencing how important a support system really is. And when it comes to that most important relationship with Jesus, you'll find lots of great ways to take significant steps forward. Through Community Groups, D-Groups, mentoring, and more, you can stay rooted in the middle of one of the busiest times of life. Come join us and do LIFE TOGETHER!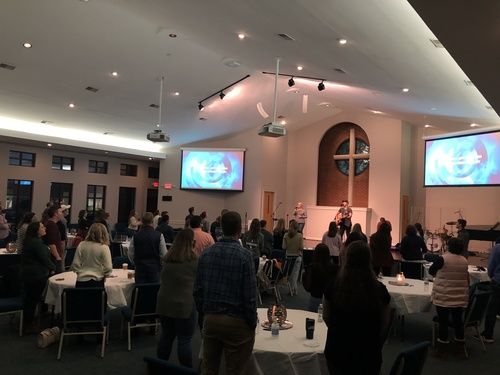 SMALL GROUP BIBLE STUDY - 9:30A (Sending Center) | WORSHIP ON SUNDAYS - 11A
TATES CREEK CAMPUS
The best place to start your Young Adults journey is our weekly worship and study on Sunday mornings! We've got all the goods: donuts, coffee, friends and the Bible.

EVERY 1ST TUESDAY OF THE MONTH
7-8:30 PM | ARMSTRONG MILL CAMPUS
Join us the first Tuesday of each month and meet new young adults as well as reconnect with your Immanuel family from both the "Creek" and the "Mill" locations. There's always something good to drink and snack on, a time of passionate worship, a relevant message from the Bible, and a clear pathway to connect to the Young Adults at Immanuel.
MONDAYS | 7PM | WORSHIP CENTER
ARMSTRONG MILL CAMPUS
The Ultimate Girls Night! Our community of young ladies continues to grow and flourish on Monday nights. Snacks, friendship, and group studies are making a serious impact in those who join us. We would love to have you join us!
Every third Tuesday of the month, our young adults gather in a home of one our members for dinner and community - it's the "together" in "Life Together," (plus dinner rolls!).
"D Groups" = "Discipleship Groups"
These discipleship groups are same-gender small groups of 2-4 people. These are closed groups that agree to meet together for 12-18 months of intentional growth. D-Groups have a rhythm of formal meetings and informal times of life-on-life mentoring. Through discipleship groups, we develop spiritual disciplines, core theology, transformation, and training for every day mission.