One generation shall commend Your works to another, and shall declare Your mighty acts.
Immanuel's men's ministry is a community of small groups where men of God can meet and build relationships as they gather, grow, and serve.
What does Easter mean?

The resurrection of Christ is the greatest event in the history of the world. The resurrection leaves us with the ultimate question—"In whom or in what do I really place my trust?"
Paul wrote: "For I delivered to you as of first importance what I also received: that Christ died for our sins in accordance with the Scriptures, that he was buried, that he was raised on the third day in accordance with the Scriptures," (1Cor. 15:3-4).

The beautiful story of Easter requires a response from each of us. We have a God who is alive and who wants to have a personal relationship with each of us. Easter reminds us that we have to choose to draw near to God and receive His grace and find help in our time of need (Hebrews 4:16) or to choose to remain isolated from God and continue to face life on our own.
This Easter season, I pray that you will allow the truth of the Risen Savior to encourage you to choose to draw near to God. That you choose to have a life that is not distant from the One who loves you but that you choose to have an intimate relationship with the One who is always there for you.

Join the Immanuel family this Easter Sunday as we worship the Risen Savior together:

Dan
Celebration 2022: For Boomers and Builders
April 22, 9:30 am - 3 pm
Porter Memorial Baptist Church
Celebration is the annual time for Boomers (born 1946-1964) and Builders (born before 1946) to gather for great music, preaching, and entertainment along with food and fun!
Celebration has changed this year to provide a safe environment for social distancing between groups. Other than lunch, all of the programming will take place in the sanctuary. You are encouraged to follow state COVID requirements. Currently masks are encouraged but not required.
Program includes:
Don Mathis - popular revival preacher, former pastor of five Kentucky Baptist churches
The Ole Countryboy - Farrell Isenbert is a comedian, musician, and former Kentucky Baptist pastor
Bill Fort - retired Kentucky pastor and current interim pastor
Allen Lane Band DU - hymns and Christian songs with a southern gospel flare
Lunch will be provided. $20 per person if registered by April 18. $25 per person after April 18.
JOIN US FOR COFFEE & COOKIES
First Thursday of Each Month
Gathering Place, Tates Creek Campus
On Thursday, April 7, our guest will be Heather Clary, Director of Communications for the Better Business Bureau serving Central and Eastern Kentucky. She will provide information on the BBB's free services to the public and sharing information about the hottest scams going around and how to protect yourself from them.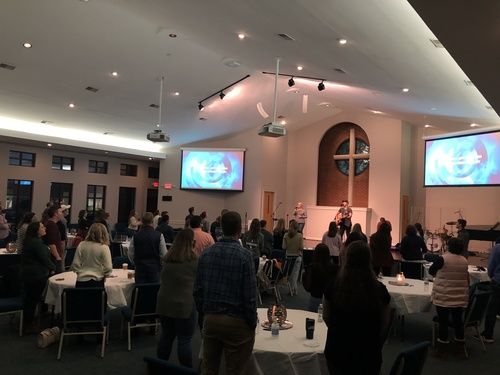 Truth Seekers Bible Study
Sundays at 5:30 pm
Armstrong Mill Campus
Led by Wayne Spivey

Young at Heart and XYZ are now combined into one group that meets the second Thursday of each month at 6 pm at the Armstrong Mill campus.
Thursday, April 14 at 6 pm
Armstrong Mill Campus
Bring a covered dish to share.
Tuesday, April 19 @ 11 am
ROC Café, Tates Creek Campus
Enter at Door 10
Tuesday, April 26 @ 10 am
Conference Room, Tates Creek Campus
Enter at Door 1