One generation shall commend Your works to another, and shall declare Your mighty acts.
Immanuel's men's ministry is a community of small groups where men of God can meet and build relationships as they gather, grow, and serve.
JOIN US FOR COFFEE & COOKIES
First Thursday of Each Month
Gathering Place, Tates Creek Campus
Beginning Thursday, November 4, come gather with us the first Thursday of each month for a time of coffee, fellowship, information, and prayer. We will provide a prayer list you can take home and host guest speakers who will provide information that can be useful to all of us. (Enter at Door #1 for the Gathering Place.)
LEGACY is defined in part as "a thing handed down by a predecessor." With this definition in mind, one could say that Immanuel Baptist Church is a legacy left my many great God-fearing saints who have served faithfully over the past 100+ years of the church's history.

Legacy describes people like many of you, and many who have moved on to glory, who have given so much to the ministry of Immanuel Baptist Church. Legacy describes people who have left their fingerprints all over this church, as teachers, leaders, committee members, and workers on untold projects in the service of this church.

I think all of us want to hear those words from our Lord, "Well done, good and faithful servant" (Matthew 25:23), but how do we leave a meaning legacy for others to follow?

1. Be a student of God's Word. Study the Bible daily. Attend a Bible study group on a regular basis.
2. Participate in weekly corporate worship. Leaving a legacy that affirms worship as an important part of your life is invaluable and speaks volumes to others.
3. Invest in the lives of other members. Be more than an attender. Be a "Reacher." Reach out to some of the younger members and get to know them and their families.
4. Be a model in faithful stewardship, both financially and spiritually. Our lives should serve as an example for all the Body.
5. Take time to be alone with the Lord; pray, meditate, and read scripture. Time alone with God can be refreshing, rewarding and will be obvious to others. Pray for your church and the staff daily.
6. Take an honest, personal inventory of your walk with the Lord. Where are you growing? Where are you helping others along this journey of faith?
7. Be willing to serve wherever you can. There are many ways we can still serve the Lord in His church. Places of service include calling those who are home bound or serving in one of the many ministries of the church.

These are just a few suggestions to help you think through how you can leave a legacy here at Immanuel. We can all make a significant contribution to the kingdom through simple steps of faithfulness. My prayer is that you will leave a faithful spiritual legacy that will be handed down to those who follow you.

Dan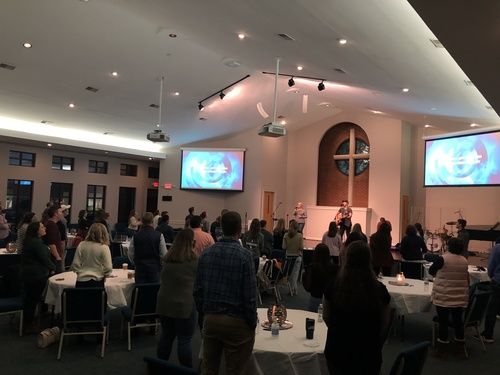 Truth Seekers Bible Study
Sundays at 5:30 pm beginning January 30
Armstrong Mill Campus
Led by Wayne Spivey

Young at Heart and XYZ are now combined into one group that meets the second Thursday of each month at 6 pm at the Armstrong Mill campus.
Thursday, February 10 at 6 pm
Armstrong Mill Campus
Bring a covered dish to share.
Tuesday, February 15 @ 11 am
ROC Café, Tates Creek Campus
Enter at Door 10
Tuesday, February 22 @ 10 am
Conference Room, Tates Creek Campus
Enter at Door 1