announcing our third locaTion
God is calling us to take our next step of faith to continue reaching more people for Christ. Immanuel will be expanding our multi-site vision and planting its THIRD location in the city of Georgetown! We believe God is calling us to this community to provide a place for people to know Jesus, experience sound biblical teaching, and find community, care, and friendship.
If you would like to be involved or want more information about the launch of our Georgetown campus, click the button below to send us a simple request form. We look forward to getting to know you!
Worship with us in Georgetown!
6 pm at Scott County High School
1080 Cardinal Drive, Georgetown, KY
It's our first opportunity to worship together in Georgetown! Peyton Trapnell will lead us in a time of worship and Georgetown Teaching Pastor Brandt Lyon will introduce a series called "Spiritual." This three-sermon series will take us through our three fall worship experiences in Georgetown and will deal with what it means to truly be a "spiritual" person. We will walk through what it means to be reborn, transformed, and conformed to the image of Christ.
Why do we want to plant a new campus?
When the church fulfills the Great Commission, the natural progression will be growth: "Go therefore and make disciples of all the nations, baptizing them in the name of the Father and of the Son and of the Holy Spirit, teaching them to observe all things that I have commanded you; and lo, I am with you always, even to the end of the age." (Matthew 28:19-20).

With the population growth in our area, the need is great for more churches in the Central Kentucky area, and God is calling our church towards being a regionally impacting ministry.

Our mission statement is leading people to Jesus and equipping disciples. We see launching a new gospel centered work as a strategic initiative toward fulfilling our mission!

Christ commands us to make disciples. We should not limit making disciples to people within the city borders of Lexington, but go to the ends of the earth to reach people. Thankfully, people from the ends of the earth are here among us in the surrounding counties and communities.


Why was Georgetown selected as the location of this new campus?
We have been collecting information and data from various sources. The Kentucky Baptist Convention, North American Mission Board, and Central Kentucky Network of Baptists have been providing consultation on surrounding communities and cities that have seen explosive population growth. Georgetown is an area with many new young families moving into this region. Furthermore, the data provided has shown the number of existing evangelical churches in this area are not keeping up with the pace of population growth.

We also have a unique opportunity with our relationship with WLEX and our weekly TV broadcast. Scott County viewership has been growing since February of 2020, and consistently averages close to 1500 households per week.

Combine this data with dedicated prayer and counsel, we strongly believe that God is leading us to plant our third campus in this community.
Will this new campus continue to be connected to IBC?
Yes. Antioch was Paul's home church. As they ministered to the Lord and fasted, the Holy Spirit said, 'Now separate to Me Barnabas and Saul for the work to which I have called them.' Then, having fasted and prayed, and laid hands on them, they sent them away." (Acts 13:2-3). After completing his missionary journey planting churches, Paul returned to his home church. The church in Antioch, where followers of Jesus were first called Christians, served as an important church for Paul as he spread the gospel and planted churches in Asia and Europe. Planting churches will add to church life and not diminish it.
Will there be additional staff at this campus?
As with any new startup, staff will grow as the campus attendance grows. However, in order for this particular campus to get the best launch possible, we will have the Teaching Pastor in place prior to launch. We will evaluate future staff needs as we progress and get closer to opening the campus. Our first priorities will be in the area of Worship, Children, and Students.
Who was part of making this decision?
Our Lead Pastor, Executive Leadership, IBC Staff, and volunteer leaders have been in prayer and communication for the last 18 months. There is a sense of great unity around this decision!
Are we buying property and building a new facility?
A church is people. We build people, not buildings. Yes, the long term strategy will require a new building, either through leasing a facility, taking over an existing church facility, or building our own. A campus in most cases begins with a group of people who attend Immanuel, reside in a particular area, who come together to pray, praise, and study the word of God in order to grow deeper in their walk with God. We are not going to buy property and build a new facility initially. We will begin forming Community Groups within homes to build a core group of disciples who will help IBC launch a physical campus.
We are targeting people who need Jesus. The world is our neighbor and lives right in our backyard. Many people in Central Kentucky are unreached and are not connected to a local church. God has blessed Immanuel, and we have the opportunity to expand our regional influence. The Bible says, "Not forsaking the assembling of ourselves together, as is the manner of some, but exhorting one another, and so much the more as you see the Day approaching" (Hebrews 10:25). We are providing space for people to reach others for Christ and to connect with those who need Him.
Will there be a campus pastor?
Yes. The role of a Campus Pastor is to oversee the life and direction of a Campus under the direction and leadership of our Lead Pastor. However, in our structure, they will be called Teaching Pastor. This requires a firm grasp of the beliefs, values and strategy of Immanuel and the ability to align staff and key leadership teams of this new campus with IBC mission, vision and values. The Teaching Pastor will offer pastoral leadership to the campus and will lead any staff and key volunteer leaders of this campus. The Teaching Pastor will also be the primary weekly teacher at this campus.

Our Leadership Team will conduct a search and interview process for the Teaching Pastor of this campus. The Personnel Committee will serve as an advisory for the position.
Will our church go into debt to start this new location?
We are not going into debt. We will move forward as God provides. Thankfully, we already have the funds provided and set aside for most of the expectant startup costs.
Where are we in this process and what can I do?
Right now, we are preparing for Phase 1 of this launch. Do you have questions? Please contact our Leadership Team. We will be glad to provide answers. This venture was started with much prayer and counsel. We continue to value your prayers and input. We are in this together.

Georgetown Teaching Pastor
Immanuel Baptist Church is thrilled to welcome Brandt Lyon to the Georgetown campus as Teaching Pastor. Brandt, who is originally from Hopkinsville, Kentucky, has more than 20 years of pastoral experience. He has served as the past president of the Kentucky Baptist Convention Pastors Conference and has served as a member of the KBC Mission Board. He is a graduate of Austin Peay University and obtained his Masters in Divinity and Doctorate of Ministry from The Southern Baptist Theological Seminary.

Brandt is passionate about leading the body of Christ to live in fellowship and love with one another while serving Jesus Christ. He is an avid runner and loves spending time with his family, wife of 26 years, Lisa, and three sons, Fletcher, Parker and Jake.

We are excited to welcome Brandt, his family, and the Georgetown community to the new Immanuel campus in Spring of 2022!
It all began with a Baptist preacher. In 1792, Elijah Craig led his congregation to the site that is now known as Georgetown, establishing a new settlement which he called Lebanon. Craig established some of the first mills west of the Appalachian Mountains along the Royal Spring Branch where he also manufactured cloth and paper. He founded Rittenhouse Academy which eventually became Georgetown College. The city's name was changed to George Town in honor of President George Washington in 1790. When Kentucky became the 15th state in 1792 and formed Scott County, George Town became the county seat. Its name was formally changed to Georgetown in 1846.

Part of the fertile Bluegrass Region, the county developed an agricultural economy, cultivating tobacco and raising blooded livestock including thoroughbred racehorses. Following the Civil War, Georgetown became a railroad hub, connected to the Cincinnati Southern, the Louisville Southern, and the Frankfort & Cincinnati railways.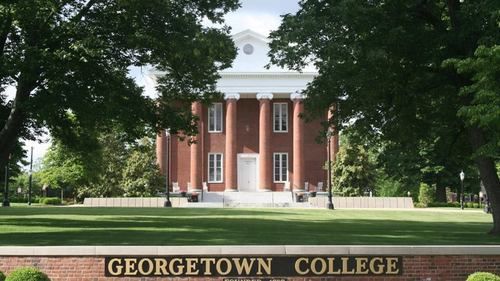 Throughout the 20th century and continuing today, Georgetown has been in transition from an economy based primarily on agriculture, to one mixing manufacturing, small business, and the family farm. During the 1960s, the construction of Interstate 75 placed the city on one of the nation's busiest highways. The selection of Georgetown as the site of Toyota Motor Manufacturing Kentucky in 1985, has resulted in the greatest period of growth in the city's history.

As of the 2010 US Census, Georgetown's population was reported as 29,098 people. Georgetown is Kentucky's 9th largest city with 10,733 households, out of which 38% have children under the age of 18. Over the last year, Immanuel has seen between 1,500 - 2,000 households viewing our weekly television broadcast on WLEX 18.