You may already know Lexington, KY as the "horse capital of the world," home of legendary racing champions and some of the world's most beautiful horse farms.
But what you may not know about Lexington is its affordability, vibrant cultural scene, highly educated population, and welcoming vibe that delights both visitors and residents.
More than 320,000 people call Lexington home, making it the second-largest city in Kentucky, with a walkable downtown chock full of great dining and shopping options. Some 28,000 college students live in Lexington, which has helped nurture a youthful ambiance and an array of cultural and entertainment options, including one of the nation's most vibrant culinary scenes.

The city is traditionally southern, but with a midwest flavor, equating to a gracious but forward-thinking mix. Lexington is within a day's drive of two-thirds of the United States population and has consistently landed a spot on the Top 100 list of best places to live landing at number 29 in 2019 by Business Insider. Additionally, Lexington has been recognized by multiple national sources as a top community for retirement (Forbes & CNN Money), home buyers (Movoto Real Estate), jobs (Forbes), high-tech start-ups (The Atlantic Cities & Kauffman Foundation), and college towns (Livability.com).

Theology: Southern Baptist
Weekly Attendance: 2,000
Neighborhood: Lexington, KY

Named as one of Outreach Magazine's fastest-growing churches in 2018-2019, Immanuel is passionate about engaging the community in its mission to lead people to Jesus and equip disciples in their faith.

Since its birth in 1909, Immanuel, a multi-generational body of Jesus followers, has been known for its commitment in building strong community inside and outside the walls of the church while providing a warm and welcoming environment to encounter and worship God. As a church, Immanuel has an unwavering commitment to teaching the truth found in God's Word, ministering to the entire family, and communicating Jesus Christ is the answer to our deepest needs.

Sundays at Immanuel are an exciting time of engaging worship and practical, biblical teaching aimed to point our hearts and minds to Jesus. Immanuel also provides opportunities on Sundays to grow in our love for God through Community Groups at every age and stage of life.

Immanuel's impact increases throughout the week as the Tates Creek location serves as a preschool and elementary campus for Lexington Christian Academy, and is home to a fully supported Recreation Outreach Center (ROC) providing thousands of members with cardio and strength conditioning facilities, two basketball courts, and group fitness classes.

We currently have three campuses and launched our latest campus in Georgetown, KY in February of 2022. Immanuel is excited for the opportunity to expand the reach of the Gospel beyond Lexington with new campuses continuing to launch within the bluegrass region in 2023 and beyond.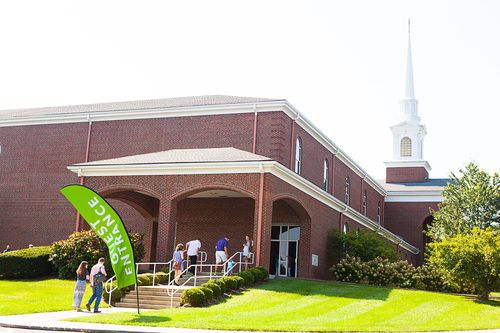 Immanuel Baptist Church is looking for an experienced Kids (Children's) Pastor to lead our children's ministry from birth through 5th grade as we strive to lead people to Jesus and equip disciples in their faith. The Lead Kids Pastor will provide vision and mission for the entire Kids staff, volunteer teams, and ministry.
RESPONSIBILITIES /
Develop a comprehensive plan for effective Family discipleship strategies.
Provide outstanding weekly communication to kids in an effective and engaging way.
Lead and manage elementary ministry (K-5th) and staff.
Possess a passion and desire to teach parents how to disciple their kids.
Recruit and empower volunteer teams to minister to kids through Sunday morning small groups and worship.
Produce regular opportunities for families to connect together inside and outside the walls of IBC.
Create a culture of outreach and invitation mindset within our entire Kids Ministry.
Maintain a consistent commitment to Biblical excellence in teaching and worship while aligning with the vision, mission, and core beliefs of IBC.
Plan, implement and lead annual Camp Immanuel and off campus camps for Elementary students.
Invest in relationships with Kids and Parents through personal pastoral ministry.
Provide guidance and mentoring to Kids Pastors at all IBC campuses.
MINIMUM QUALIFICATIONS /
At least 3 years experience in children's ministry at a church with average attendance of 1,000 or more.
Undergraduate degree required. Masters level or Seminary degree preferred but not required.
Agree to the vision and mission of Immanuel Baptist Church.
Be called specifically to Children's Ministry and have a passion to reach families.
Experience leading a staff team and/or volunteer teams.
Multi-Site Church experience a plus.
Experience managing and overseeing an annual church budget.
Knowledgeable in planning and leading expansive annual kids camps, both on campus and off campus.
NEXT STEPS /
Please submit a cover letter with resume by clicking below.