Lead people to Jesus. Equip disciples.
Latest Sermon Series - Follow Me
The Bible talks about the thousands who gathered to hear Jesus teach, many times traveling with Him from location to location. While there are many who traveled with Jesus, there were a small number who truly followed Jesus.

How do you follow Jesus? What does it look like to move from a passive listener to an active follower? This series will dive into the journey of discipleship and what it looks like to not just hear, but to do.
immanuel Reopening Opportunities
As we begin to slowly reopen, we understand life looks different. Below are opportunities Immanuel has created for you to remain an active part of our church family and answer questions about our reopening strategy.
updated Broadcast schedule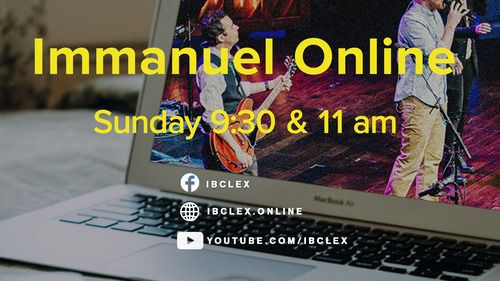 Immanuel Baptist Church is a place where people can meet Jesus, engage in life-giving community, and everyone is welcome. We are passionate about leading people to Jesus and equipping disciples. We believe in creating a space where people can have authentic encounters with Christ, discover their gifts and use them for God's glory. Join us for our Sunday services online and in-person beginning June 7!
In-Person Gathering Service Times
Tates Creek Campus
3100 Tates Creek Road, Lexington, KY
Armstrong Mill Campus
2261 Armstrong Mill Road, Lexington, KY
Sunday, June 14 - In Person Gathering - 9:30am,11:00am
Sunday, June 14 - In Person Gathering - 10am
Find a Bible study and fellowship. Currently groups and Bible studies meet virtually. Community groups help you understand God's Word and build lasting friendships. No matter your age or stage of life, there is a grow group for you.
Find your place to SERVE.
We serve using the gifts and talents God has given us. We serve expecting nothing in return — in our church, our community, and our world. Throughout our 100+ year history, God has blessed us with ministry partnerships locally, across our nation, and around the world. Whether it's at home or across the sea, we want to help you find your place to serve.
We'd love to hear from you. Send us your questions, or let us know how we can pray with you.